Cash In on This Evergreen 100% Commission Product Which Has Already Paid Out $151,667.78 in Commissions!
Awarded JVZoo Product of the Day TWICE & Ranked in the Top 1% of All-Time Bestsellers on JVZoo!
100% Commissions On ENTIRE Funnel
Upto $154 Commission Per Customer
Irresistible Front-End Offer
$3.04 Proven EPC from 94,845 Visitors!
High-Converting Upsells & Downsells to Maximize Your Earnings
"Only The Zoo Will Do..."
Yes, we sell this bad boy on JVZoo.
Click the magic button below to grab your link.
If you want email updates from me about this and other hot-converting offers of mine then enter your email over there on the right. Yes that box there, just whack your email addy in there.
And as always - no promoting using spam, link farms or weapons of mass destruction. Cheers.
Enter Your Email For Updates
STEP #2. Personalize Your Affiliate Tools
STEP #3. See Funnel & Salesletter
What Is Commission Black Ops?
I'm making $39,041.46 per month in commissions (I calculated this over the past 12 months).
I'm using a unique strategy to do this which nobody else is using - hence "Black Ops".
I'll be teaching this strategy in the front-end product and then helping them get there easier and faster with the upsells.
3 THINGS YOU WANNA USE IN ALL YOUR PROMOS
#1. The curiosity about who "this guy" is (don't come out and name me right away)
#2. The curiosity about how this guy is making $39k a month
#3. The curiosity about what the four qualifications are to get this info (makes them want it more)
Upto $154 Commissions per Customer!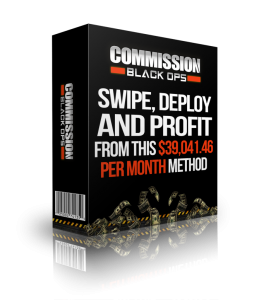 The Front-End is the $9.95 Field Manual - this is a step-by-step guide (and accompanying video and audio version) which shows people the exact strategy I'm using to make $39,041.46 Commissions per Month.
The first upsell is "The Done For You Service" ($97). This gives buyers a series of never before released, done-for-you commission-creating campaigns they just swipe and deploy. Each campaign includes all the promotional materials, a special discount coupon code they can pass to their buyers and a special bonus they can use to incentivize people to buy through their link.
The second upsell ($47) is "Commission Black Ops ELITE" which gives buyers a series of money-making, fill-in-the blanks templates as well as in-depth "Black Ops Recon Videos" explaining advanced commission-creating tactics.
(c) Copyright 2016. Special Operative "Michael Cheney". All rights reserved.